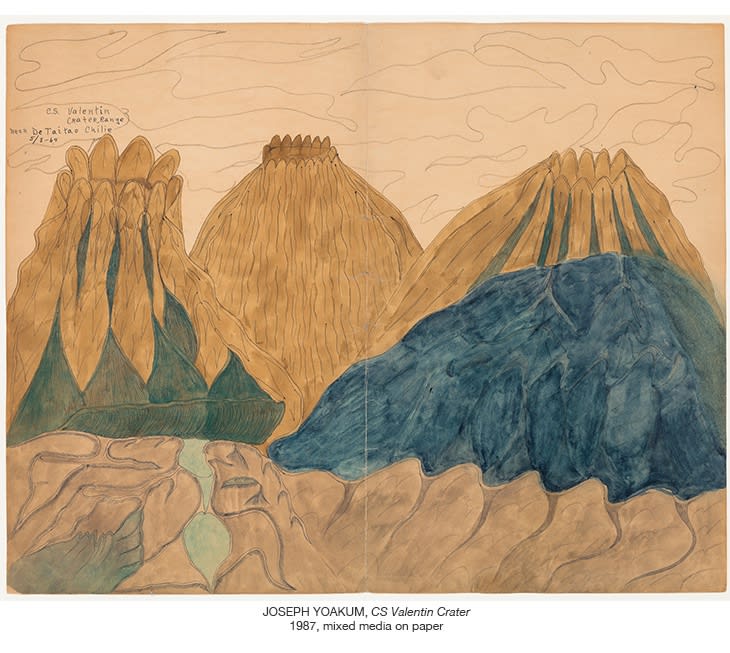 Sam Farber was a man who got things done. When he saw something that could be improved on, he would start a company and solve the problem. A Harvard graduate and a WWII Army Air Force veteran, his business ventures began in 1960 when he founded Copco, a housewares company known for its modern, colorful cookware. He sold Copco and retired in 1988, but not for long. By 1990 he had launched OXO International with his wife, Betsey and son, John. OXO revolutionized the design of kitchenware with its emphasis on ergonomic, user-friendly design and soft handles. Today it appears in stores around the world as well as leading museums' design collections. Sam won many awards for design, humanitarianism and lifetime achievement. He was a man with a resonant voice, twinkle in his eye and, most importantly, he was a loyal friend.
A lifelong art lover and collector, to say Sam became passionate about Outsider Art would be an understatement. He was first introduced to the genre in the home of dealer Monika Kinley in London during the summer of 1984. He immediately fell in love with it, especially the work of French sculptor Pascal Verbena. From this seminal experience one of the most important Outsider Art collectors and influencers was born.
That fall, he underwrote a one-man show of Pascal Verbena's work at the Rosa Esman Gallery in Soho. In 1986 Sam and Rosa started an Outsider gallery in the lower level of her space on Greene Street. Together they showed Adolf Wolfli, Henry Darger, Michel Nedjar, the Gugging artists and other European Outsiders in the mid 1980s, long before they became known in the United States. An innate entrepreneur, he thought seriously about starting a storefront museum with Didi Barrett, later involving Robert Greenberg, Sheldon Bonovitz, and Elsa Longhauser.
Gerry Wertkin at The Folk Art Museum asked Sam to become a trustee in 1996, with the understanding that they would set up a new division to exhibit contemporary Folk and Outsider art. Part of this restructuring included changing their name from the Museum of American Folk Art to The American Museum of Folk Art, to include non-American artists. Sam recognized the advantages to joining forces with an established institution and turned his attention to The Contemporary Center at the American Museum of Folk Art instead. The museum established The Contemporary Center in 1997 and hired Brooke Anderson, a prominent art world figure dedicated to presenting the work of important international self-taught artists, as its curator. Sam was put in charge of the building committee for their new building next door to MoMA on 53rd St, on the footprint of the two brownstones given them by Abby Aldrich Rockefeller when the museum had been first established. He enlisted the firm Tod Williams, Billie Tsien & Associates to design the 30,000-square-foot bronze-clad building that the Folk Art Museum formerly called its home. It opened Dec. 11, 2001, just three months after 9/11, to international critical acclaim. It was called the best new building in New York since the Guggenheim. The rest, as they say, is history.
Sam was also responsible for several high-profile exhibitions. His first major show was curator Stephen Prokopoff's Darger retrospective that traveled to Manhattan in 1997. Propokoff's show lacked any of the more violent Dargers, and Sam and Robert Greenberg lent examples from their own collections to round out the exhibit. Next, he organized ABCD: A Collection of Art Brut in 1999. The show was seen as an edifying exhibition of European Outsider artists that sought to reinstate the original translation of Art Brut coined by Jean Dubuffet in the 1940s. He assisted in mounting a very large Adolf Wölfli exhibition in February of 2003, first imagined during a dinner conversation with dealer Phyllis Kind and Elka Spoerri, founding curator of the Adolf Wölfli Foundation at the Kunstmuseum Bern. It was the largest Wölfli show ever to be exhibited at that time. Sam was the person most responsible for the establishment of the Henry Darger Study Center in 2000, procuring Darger's manuscript books, journals, and collateral material for the archive, along with twenty-three works. He was voted "Trustee Emeritus" in 2005, but his involvement with the museum lasted much of the rest of his life. He died in 2012 at the age of eighty-seven.
Sam continuously expanded his interest and knowledge about Outsider Art and had many mentors in the community. British collector Monika Kinley in London, New York-based dealer Phyllis Kind, critic Laurent Danchen in Paris, collector Charlotte Zander in Germany and Genevieve Roulin, then Assistant Director of the Collection de l'Art Brut in Lausanne, were among his advisers and friends. Monika Kinley was the one responsible for introducing him to John Maizels in London in 1989. At the time, Maizels was just starting Raw Vision on a shoestring, the award winning English magazine of Outsider art still being published. Sam became Maizel's Associate Editor; he even got mailed cartons of the magazine from England and put them into envelopes to mail out from New York to American subscribers, saving the fledgling publication a great deal of international postage. It is a testament to his commitment to the field.
Sam was well known for his dedication in bringing the work of Henry Darger to the public's attention. Though Monika Kinley, he became friendly with Nathan Lerner, the photographer, painter and industrial designer. Lerner was Darger's longtime Chicago landlord who kept Darger's drawings from being thrown in a dumpster when he passed away. Sam visited him whenever he was in Chicago on business, which was fairly often. He spent hours in Darger's room with Lerner and gallerist Carl Hammer attempting to preserve the paintings by laying them flat with tissues in between and to protect the pieces from the sunlight streaming in through the window. Sam also made it possible for John MacGregor to publish his profusely illustrated seven-hundred-plus page book, Henry Darger, In The Realms of The Unreal. This book was the first substantial study of Darger and his work. It included excerpts of Darger's writings as well and is largely seen as the most comprehensive publication of the artist's work in existence.
In 2011, Sam Farber was honored by the American Folk Art Museum with the Visionary Award, in recognition of his longtime commitment to Outsider Art. He built one of the most notable collections of Outsider Art in the world featuring works by Adolf Wölfi, Martin Ramirez, Henry Darger and the Gugging artists as well as many others. In his enthusiasm he sometimes curated exhibits and lectured on the subject. In addition to donating essential works to the American Folk Art Museum, in 2012 he donated one of the centerpieces of his collection, a twelve foot long by seven foot high wooden triptych by Pascal Verbena, "The Holocaust", to the Collection de l'Art brut in Lausanne, where it remains on permanent exhibit.
It is not surprising that Sam, a man credited with perfecting new standards of design and consumer satisfaction, found his calling in a form of art that eschewed traditional standards of beauty. His innate work ethic and humanistic personality traits can be seen in his devotion to the field of Outsider Art. During his lifetime, he played an instrumental role in the community through educating the public on the importance and significance of the genre. His allegiance helped foster the appreciation and acceptance of Outsider Art on a national and international level. Similar to the way that he sought out new developments in ergonomics, Farber viewed Art Brut as a new development in art that challenged established aesthetic values. As Jean Dubuffet stated in 1945, "Art does not lie down on the bed that is made for it; it runs away as soon as one says its name; it loves to be incognito. Its best moments are when it forgets what it is called."
Special thanks to Betsey Farber for her assistance in writing and editing this piece.