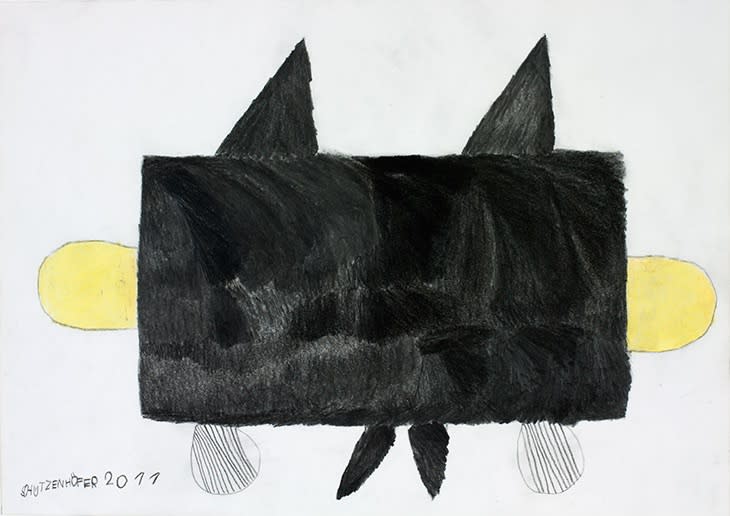 The Gugging House of Artists was founded when psychiatrist Leo Navratil began to notice an unexpected high-quality of art being produced through diagnostic drawing tests and decided to open a residential house for mentally-ill artists in Gugging, Austria near Vienna. Since its inception, the "Gugging Artists" have gained an internationally renowned reputation due to the extraordinary excellence in their drawings, paintings, photographs and writing. With an emphases placed on their talents as opposed to their illnesses, the Gugging Artists have been part of more than 250 exhibitions in galleries and museums worldwide. One patient, artist Günther Schützenhöfer, has particularly excelled in this environment, subsequently securing a spot as one of the most important representatives of contemporary Art Brut.
Schützenhöfer was born in 1965 in Mödling and spent most of his early life in various institutions before moving into the House of Artists in 1999 where he began to produce his first drawings. It took time but he eventually became both acclimated to the environment and confident in his creative development. After two years, his works were first exhibited at the Gugging Artists' Gallery in the winter of 2001.
Schützenhöfer mainly produces small format drawings, exclusively using gray and colored pencil. His themes are of great variation and his imagination vast, typically rendering everyday objects in a non-perspective, stylized manner. Schützenhöfer's characters, people and animals, look inexplicably different every time yet always carry the artist's infectious smile.
Schützenhöfer works very slowly and intermittently, reflecting for long periods of time on what he wants to depict before proceeding very precisely and cautiously. Before putting pencil to paper, he will turn the first one round and round between his fingers until it has found the perfect position in his hand. Once he has found a theme and proper hand position, he starts to define the outer limits of his motive. His strokes are tender but determined. He then fills in the contours of the primary drawing with a dense multitude of parallel lines – his nose almost touching the paper although he is not short sighted– running in different directions and overlapping each other – until the outlining delineation has disappeared. Sometimes he also uses coloured pencils to set a course. Nothing will happen quickly – just as nothing ever goes quickly with him Schützenhöfer. Working with his nose almost touching the paper, the artist only lifts his head to show his the work in progress, offering the words: "… you see?"
At first Schützenhöfer created mainly small format drawings with grey or color pencils. Lately, he has been moving on to larger sizes. He works either in the House of Artists' office or in the gallery, where a large table invitingly holds all kinds of drawing and painting utensils. Schützenhöfer likes to have someone with him when he is drawing and repeatedly discusses his ideas with the person present. Over time, has developed a "filling-in technique" in which a very tender, almost timid stroke augments into a dense and energetic one. Schützenhöfer will often press the pencil down with such force that his strength deserts him and he has to take a break in the middle of a drawing – particularly a large one. Schützenhöfer's working on a picture has nothing light about it. It almost appears to the spectator that he is giving birth to a new idea, a new motive. He has to fight for his space on the sheet and concludes with his signature, which also costs him a great effort.
It is hard to convey how happy Schützenhöfer becomes after he has completed a drawing. He will walk along the corridor a little faster, skipping somewhat over to "his table" in the House of Artists where he likes to have coffee with his friends and fellow artists, Arnold Schmidt Johann Fischer. Schützenhöfer likes showing his pictures to visitors and often onlookers can not help but smile at his authentic passion for art.
Schützenhöfer's talent for developing his own language of shapes is evident in all of his work. Reductive forms and sophisticated compositions are continuously present in his overwhelmingly affective body of art that marries emotional intricacy with technical precision and inevitably presents innocence as a stepping stone to ingenuity.