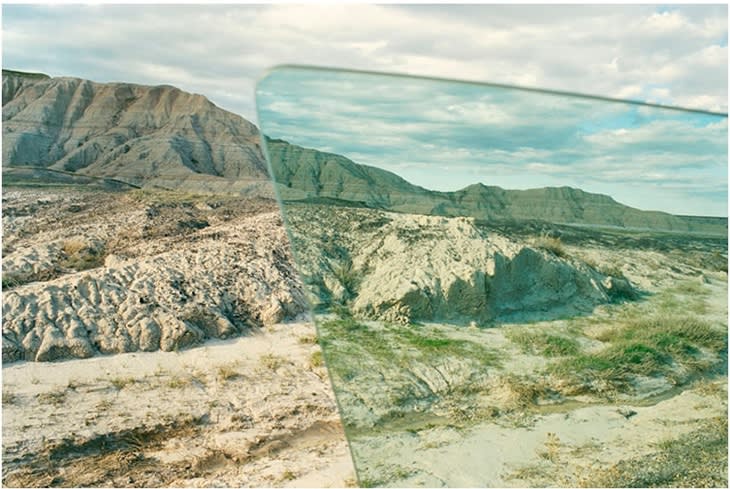 Award-winning curator Laurel Reuter is the Founding Director and Chief Curator of the North Dakota Museum of Art in Grand Forks, N.D. Born and raised on the Spirit Lake Dakota Reservation in North Dakota, Reuter has curated countless exhibitions including "The Disappeared" (2006) — which toured internationally including at El Museo del Barrio, NYC, and was reviewed by Holland Cotter in The New York Times — and more recently, "Snow Country Prison: Interned in North Dakota" (2013). A recent recipient of a Lannan literary fellowship, Reuter is curating the "My Dakota" exhibition at NDMOA from the much praised book by Ricco/Maresca artist, Rebecca Norris Webb. My Dakota — a photographic elegy for Norris Webb's brother and her home state of South Dakota — interweaves her lyrical landscapes and spare handwritten text pieces. The NDMOA exhibition will run concurrently with the Ricco/Maresca solo show of My Dakota this summer. Reuter and Norris Webb corresponded via email for this Q&A.
Laurel Reuter: My Dakota is as much an elegy to a time and place as it is a memorial to your brother. It is unlike any other photo book I have seen about the Dakotas.
While objects in the forefront seem to ground each photograph, the overall composition often suggests movement stretching far into time and space. The visual parallels the passage of your brother into the beyond just as the prairie itself stretches endlessly toward the far horizon. Is this a conscious theme or am I imagining?
Rebecca Norris Webb: I think you've beautifully captured the sense of tension in the frame, between the near and the far, the tangible and the ethereal, the ground one stands on and the distant horizon, all of which may also suggest the living and the dead. In the darkest time of grief, one feels suspended between two worlds, sometimes floating, sometimes feeling tugged in two directions at once.
For months after my brother died, it felt as if his loss was carving its own territory, a kind of borderland between memory and the badlands and prairie.
LR: Your photographs layer and dissolve. They soften, bleed, and liquefy. Could this be a conscious or unconscious metaphor for grief itself?
RNW: An intriguing observation, and one I hadn't thought about before. What you're describing suggests the transformative quality of grief. This notion is also echoed in some of the text pieces in the book, such as — "Does the prairie long to be an inland sea again?"
Thinking about grief and transformation also reminds me of a conversation poet Marie Howe had with another poet, Stanley Kunitz, in the months following her younger brother's death. "I feel something has me in its mouth and is chewing me," said Howe. "Yes, and you must wait and see who you'll be when it's done with you," replied Kunitz.
LR: Could the overall theme of your book be Making Grief Visible?
RNW: Yes, especially the journey or — more specifically in my case — the road trip of my grief for my brother. My response to the first death of an immediate family member was an overwhelming restlessness. For months, all it seemed all I could do was drive through the badlands and prairies of my home state and photograph. I don't even like to drive. And I was always getting lost — in hard rains, heat waves. Lost and loss. For months.
As I traveled alone through the badlands near where I grew up, some of my favorite photographs from The Americans came to mind, including "Butte, Montana, 1956," which Robert Frank photographed through the sheer curtains of his lonely-looking hotel room. I love how Frank managed to capture not only the feel of this rundown Western mining town, but also something more difficult to pin down (Melancholy? Irony? Reverie? A mix of all three?). It's a view that shouldn't "merit a second glance," according to the cultural critic Geoff Dyer, yet "it demands that we return to it again and again."
In addition, some of my favorite road-trip poems kept me company during those long, lonely drives, poems whose energy and mystery are fueled by the dynamic between driving down the open road and stopping along the way when a compelling image draws one closer:
"Two forces — one forward moving, unthinking, one stilled and reflective — connect and disconnect us; the uneasy match seems profoundly American," notes the poet Marianne Boruch.
LR: Which comes first, the words or the image?
RNW: With My Dakota, the photographs came first because after my brother died I suffered from writer's block. It was only in the last year of the project that these rather mysterious, spare text pieces came to me, often arriving whole when I'd awake alone in my motel room in South Dakota. The text pieces are often four lines long, such as the last one in the book:
Once I thought I saw him.
It was late fall near the Missouri — the back
of a brown coat vanishing
into the trees. Was it a man or a deer?
LR: What did you learn from doing the project?
RNW: I'm a pretty stubborn person, so it's taken me much of my life to understand and accept that my images are much wiser than I am. It often takes me weeks or even months to understand what they are trying to say to me.
Have you ever watched a three-toed sloth make its way across a tree limb? I think my images slowly and dreamily move me along toward understanding life and death and the world in a similar way. "The imagination gropes forward, feeling its way towards what it needs…reaches out, into the landscape in front of us," noted the poet Mark Doty. These images or metaphors act like a "container for emotion and idea…
[to] hold what's too slippery or charged or difficult to touch," adds Doty.
Looking back at My Dakota, I now realize that I was photographing this dark time in my life in order to try to absorb it, to crystallize it, and, ultimately, to let go of it. Not only did my first grief change me, but making My Dakota changed me as well, both as a human being and as an artist.
LR: The book is beautiful leaving me wondering if you arrived at some kind of peace by the end?
RNW: Ever notice how the word, "peace," shares the same soothing "s" sounds found in the word, "acceptance"?
I accept that everyone I love will die. I accept that grief will break me open time and time again.
I also accept that if I can pick up my camera and head out into the landscape, I can create even during the darkest and most devastating times of my life. I find some peace in this.
LR: If you were to make a second study of South Dakota would it be radically different and if so how?
RNW: I'm just wading into a new project in the Dakota badlands. I don't know exactly why this broken and surreal landscape keeps calling me West. Maybe my creative compass points "West" instead of "North." Or maybe not knowing why is a good place to start.
My Dakota will be on view at Ricco/Maresca Gallery from June 20th-August 17th, 2013. Opening reception will be on Thursday, June 20th from 6-8 PM. An artist walk through will be held on Saturday, June 22nd from 5-6 pm.