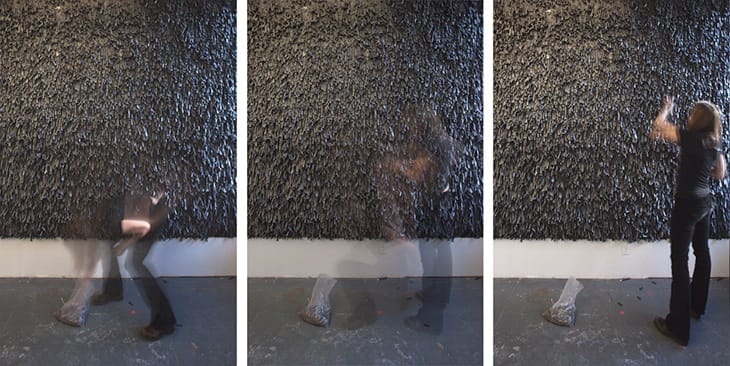 A studio visit with New York-based artist Alice Hope may be one of the most consummate experiences one can have when exploring the inner workings of the contemporary art world. Upon entering, it is immediately apparent that any commonplace materials like paint and canvas do not exist in this space. Here it is metal that serves as the medium. Light peeks through perforated aluminum, suspended from a window; ferrite magnets lay in front of a colossal 8' x 8' steel plate, leaving doubt as to whether they were placed with intentionality or chance; strings of bullets dangle from the ceilings like beaded necklaces begging to be touched; bands of painted balls and chains hang on panels, and bb gun pellets line the walls. As if on purpose, intellectual assumptions amalgamate with awe and confusion creating an atypical yet intimate artistic atmosphere.
While Hope's work has clear ties to the mainstream movements of minimalism, assemblage, and found art, her process is nothing short of an anomaly. Known for her extensive work stockpiling industrial materials into premeditated patterns, Hope's pieces incorporate profoundly complex ideas like numeracy, binary code, and planned obsolescence. By design, an extensive amount of planning is required in order to manipulate these unconventional materials into the intricate compositions that manifest in her work. Hope begins her process conceptually with a set of conditions regarding her additive process. For instance, only a certain number of magnets can be used in specific areas. When that limit is reached, a decay aspect is incorporated with the fall of the materials. While the artist generally knows how the pieces will drop, the magnetism itself is what actually makes the art. As Hope puts it, "The repetition definitely has significance, especially in going past a comfort zone. At first, I feel like a work is monotonous. Then, it goes over sort of a waterfall and the repetition and numeracy within the work take over."
The deterioration of the materials sets up negative space and helps to incorporate meaning within the skeleton of the piece. This physical manipulation of growth and decay allows for additional elements like binary code to imbue additional significance through subliminal references. Another symbolic aspect in Hope's work is the context behind the materials she chooses. Beyond having the possibility of transformation as their intended use, each component is or once was pertinent on a cultural level. Magnets that were used in pre-digitized televisions reference obsolescence. The powder used in several pieces was used to detect cracks in pipelines. Her ball and chains have metaphorical connotations, while implying correlations with the masculinity of the military and the femininity of a pearl necklace. To Hope, the stronger the contradiction, the stronger the cultural reference.
However, it may be the intangible elements Hope utilizes that make her works so pervasive. While the artist is interested in magnets as an actual medium, the force of magnetism is the most essential feature implied in her art. When viewing Hope's work, the viewer invariably feels an immediate need to have a physical interaction with it. A palpable desire exists not only to touch but to go so far as to knock off magnets, rearrange visual components, and even roll your body over the work. Any relationship between the viewer and traditional boundaries of artistic interaction is offset by somatic desire. The "no touch" rule becomes less apparent the longer one lingers in the yearning to touch. It is as if the work itself is beckoning viewers to be defiant. By manipulating the power of seduction, Hope's art moves beyond the two-dimensional plane on which it is built and creates an additional medium, tension.
Direct contact with Hope's work is not permissive even though she embraces physical interaction as a barometer of success. Viewers are not invited to actually touch the work but rather to become aware of wanting to touch the piece, which inevitably changes it. Moreover, the artist refuses to fence off the work from the viewer as that would affect the experience she is trying to create. As a result, Hope's work consistently straddles the line between permanence and impermanence. Her pieces employ structural standards that when left alone can withstand gravity and time, yet by nature will be manipulated, exploiting the inescapable characteristics of change.
More recently, Hope has thrust her aesthetic ideologies into her large-scale public work Under the Radar at Camp Hero State Park in Montauk, NY. The site was chosen specifically by the artist because of its history with magnetism. Camp Hero was the site for the Montauk Project, a series of secret US government studies of magnetism for psychological warfare.
Under the Radar, commissioned by the Parrish Art Museum and curated by Andrea Grover, sits upon a 120' by 60' foot asphalt pad alongside the park's well-known radar tower. As a result, Hope felt a large responsibility to respond to the radar tower as its initial use was to transmit electromagnetic radiation. The actual composition was constructed by laying 320 steel plates in a binary code repeating the word "No" nineteen times. On top of the steel plates, 259,920 magnets are aligned in strict Morse code adding an additional 6,498 Morse "No's." The direction of the binary code and engagement of the layout were determined as if the art was being disseminated from the radar. True to her artistic process, numeracy and magnetism accede as the predominant forces behind the work while the discarded tower serves as a commemoration of Hope's ever growing fascination with the obsolete.
Ultimately, Hope's labor-intensive planning process and quality of materials lead to work that can almost be interpreted as Baroque as far as extravagance, tension, and overall grandeur, yet it coalesces with Minimalist choices as far as material and composition. This incongruity in classification transcends the brazen irony of post-modernism. Instead, she has found a way to reference social constructionism through an abstracted process based on reality, knowledge, and transhistorical paradigms. Hope's work is ostentatious and understated, easy to like yet difficult to understand. It is refreshing to actually see a contemporary artist who has moved beyond art historical canons and is working at the present point in time. Invariably, Hope is and will continue to push the boundaries of the creative experience, viewer synergy, and traditional methodologies all while adhering to the congruency and function of the space in which she is working.

Kristin Sancken (kristinsancken.tumblr.com) is a New York City based writer and curator. She is contributing art critic for Highbrow Magazine and various other publications. Her essays on Gabriele Orozco, Jose Damasceno, Richard Aldrich, and Piotr Uklanski have been published in several major auction catalogues. She has recently curated the selling exhibition Watercolors at Phillips de Pury & Co. as well as a public collection for Diaspora Community Services. Kristin holds a MA in Art Business from the Sotheby's Institute of Art. For requests or proposals please contact her through the above website.