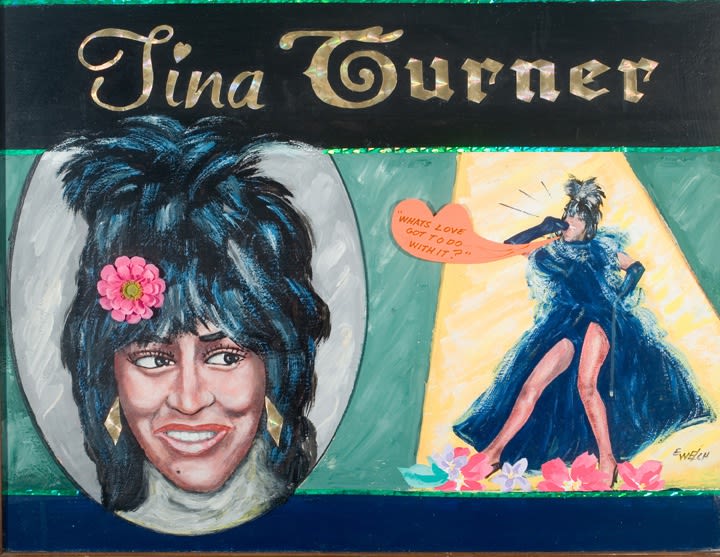 IN "ED WELCH: SIGNS," ON VIEW AT RICCO/MARESCA FROM SEPTEMBER 7 THROUGH OCTOBER 9, 2010, A SELF-TAUGHT ARTIST PAYS HOMAGE TO SOME OF HIS HEROES
Now 92 years old, the Florida-based, self-taught artist Ed Welch is a former sign painter who grew up in the Northeast and in the once-segregated South. Like his mother, who played the piano and the organ, and who made her own clothes, Welch liked to draw and as a child drew many pictures and displayed a keen sense of craftsmanship. Welch recently recalled that he was always self-motivated and inquisitive, and that it was as a youth that he first began to learn sign-painting. Over time, he explained, he developed a capable touch in handling his rush and other tools. In today's era of computer-generated everything, that kind of skill has come to seem like a lost art.
In a flyer Welch produced several years ago to introduce himself to potential clients, the artist noted that he had served in the U.S. armed forces in World War II and in the Korean War, that he had attended Virginia State College and New York University, and that he had been "trained by experts" in sign-painting. It was only when he was well into adulthood, though, that Welch began to make the mixed-media pictures—each is part sign and part celebratory portrait—of important figures in American black history for which, in recent years, he has become known.
ALWAYS PHILOSOPHICAL, THE 92-YEAR-OLD WELCH LIKES TO SAY: "GOD GAVE US A FINE BRAIN. USE IT OR LOSE IT."
Many of his subjects are musicians, including Duke Ellington, Aretha Franklin and Stevie Wonder. Others, like Frederick Douglass or Malcolm X, represent the qualities of leadership and progressive vision that have meant a lot to Welch over the many decades of his long life. "These were talented individuals from whom we can all learn something," the artist says.
Welch packs his collage-like paintings with images of and occasional quotes from the subjects to whom he pays homage, along with his own observations and pronouncements about society's ills and humanity's foibles. He likes to point out that he believes the human brain is one of "God's greatest creations." Then he adds: "Use it or lose it."
If Welch's comments sometimes sound a bit earnest, that might be, he hints, because personal experience has taught him that education, playing by the rules and a bit of old-fashioned common sense can go a long way toward helping people overcome many of life's challenges. Welch certainly has known hardship in his own life. He recalls, for example, spending time, during his early childhood, in rural North Carolina, where he attended a one-room school and witnessed firsthand the injustices of segregation. Later, with his mother, the adolescent Welch moved to New York and settled in Harlem. To make up for the poor elementary-school education he had received in the South, Welch threw himself into reading in order to catch up with his classmates, establishing a lifelong love of words and reading that is reflected in his art.
Exuberant, colorful and multi-textured, each of Welch's mixed-media paintings is a mini-spectacle conveying snippets of social commentary and plain-spoken philosophy that reflect the artist's voice of experience and his engaged—but never weary—view of the world.
EACH OF WELCH'S WORKS IS PART SIGN AND PART CELEBRATORY PORTRAIT
Thus, one of his works once encouraged belligerent nations to always seek "a peaceful solution, without military force." In another, an homage to Douglass, Welch once wrote matter-of-factly: "We need you." In 2008, Welch told a newspaper interviewer in Virginia, where he was living at the time: "If something strikes me in the middle of the night while I'm lying in bed, I just jump up and start painting."
In the tradition of works made by non-academically trained artists that honor well-known figures whose teachings, political or social activism, or cultural achievements have helped define the identity of a people or a place, Welch's vibrant pictures may be seen as a kind of contemporary folk art. At the same time, rather unwittingly, their combinations of textual and visual elements, and their pack-it-all-in, pastiche/collage approach offer, from an unexpected source, a deeply personal and completely unself-conscious form of postmodernist image-making.